26Lies picked up a neat review from Jody Macgregor (
jody_macgregor) in Rave Magazine: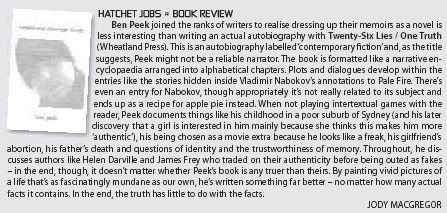 Rave is a street mag out of Brisbane, and if you follow the link you can download a pdf of it. I've done an interview, too, which'll appear later, but that was a good bit of fun as well, and I was asked things I hadn't been asked before, which is nice.

Anyhow, you can buy 26lies from Amazon, Wheatland Press, and Agog. You should, if you haven't read it. It's critically acclaimed and has a cult following. Which is code for well reviewed and not read by more than a thousand people.